The Multi-Collagen and Complex Collagen Booster
Getting old sucks! Well, the physical effects of aging are certainly unpleasant; wrinkles and sagging skin begin to appear, skin dehydration, hair and nail health declines, joints ache, and worst of all – weight gain! Yes, gaining weight is undoubtedly part of getting older. In terms of reversing these effects, supplements such as collagen are said to slow down the effects of aging. A supplement that stands out in the market is Inno Glow from Inno Supps.
Inno Supps has quite a long history of providing quality supplements. There are so many different supplements out there that promise benefits, but the results are different from what they are supposed to be. Collagen supplements are no different; there are collagen supplements that promote good effects, but they do not bring good results. However, Inno Glow is a collagen supplement that we believe in.
Let's take a look at everything related to Inno Glow.
What is Collagen?
Collagen is the most abundant protein in the human body and can be found in bones, muscles, skin and tendons. While doctors use it to help heal wounds, it is also used in cosmetic preparations to improve the skin. Healthy collagen levels can aid joint health, protection of the kidneys and other organs, skin elasticity, and even a healthy cardiovascular system. Collagen is also said to help with weight control and muscle building.
When it comes to skin health in particular, collagen can reduce wrinkles, improve skin contour, fill in depressions and improve the appearance of scars. In general, it helps in reducing the effects of aging.
How do you lose collagen?
As for what causes collagen loss, a few different things can contribute. Factors that affect collagen can include, but are not limited to, hormonal changes due to pregnancy, menopause, health conditions, and so on. Oxidative stress, which results from metabolic processes and lifestyle choices, such as smoking and diet, and the natural aging process can also deplete collagen.
Also, too much sun exposure can have a negative effect on collagen! Ultraviolet rays can break down the skin.
Collagen supplements
There are thousands of collagen supplements on the market that promise to reverse many of the negative effects of collagen loss. Supplement brands advertise their collagen to reduce joint pain, improve skin and heart health, prevent bone loss, and boost muscle mass and overall health. How true are these claims? There are so many brands of supplements, which do you choose? Inno Supps does not fall short with Inno Glow. Let's take a look.
Inno Glow overview
Inno Glow is a powerful collagen supplement that promotes numerous health benefits. However, it is not just another collagen supplement that promises results and falls short. Inno Glow also has a lot of support to support the claims.
Inno Supps states that Inno Glow is the first collagen supplement that stimulates beauty from within. It is said to firm, tighten and hydrate the skin, reduce cellulite and wrinkles and help grow longer and stronger hair and nails. Not to mention, it's said to support joint and bone health while promoting weight loss, making it a fat-burning, multi-collagen complex.
Inno Glow differs from other collagen supplements on the market because it contains type I, II, III, IV and V collagen. The sources of collagen are from: chicken, chicken eggshell, beef, sea. PLUS Inno Glow contains the advanced ingredient Astrion™, clinically shown to reduce the number and appearance of fine lines and wrinkles and reduce skin discoloration due to UV light damage from the sun.
Inno Glow also contains Pepzyme AG™, a digestive enzyme that helps your body break down collagen into its most bioavailable and bioactive form enhancing the beauty-enhancing benefits of supplemental collagen.
Let's not forget to mention that Inno Glow comes in 2 flavors, Watermelon and Tropical Punch, as well as an unflavored option.
One more thing, Inno Glow is endorsed by Dr. Anika Ackerman, MD A board-certified doctor who approves supplements is something you don't see at many companies, which makes Inno Glow stand out.
Ingredients for boosting collagen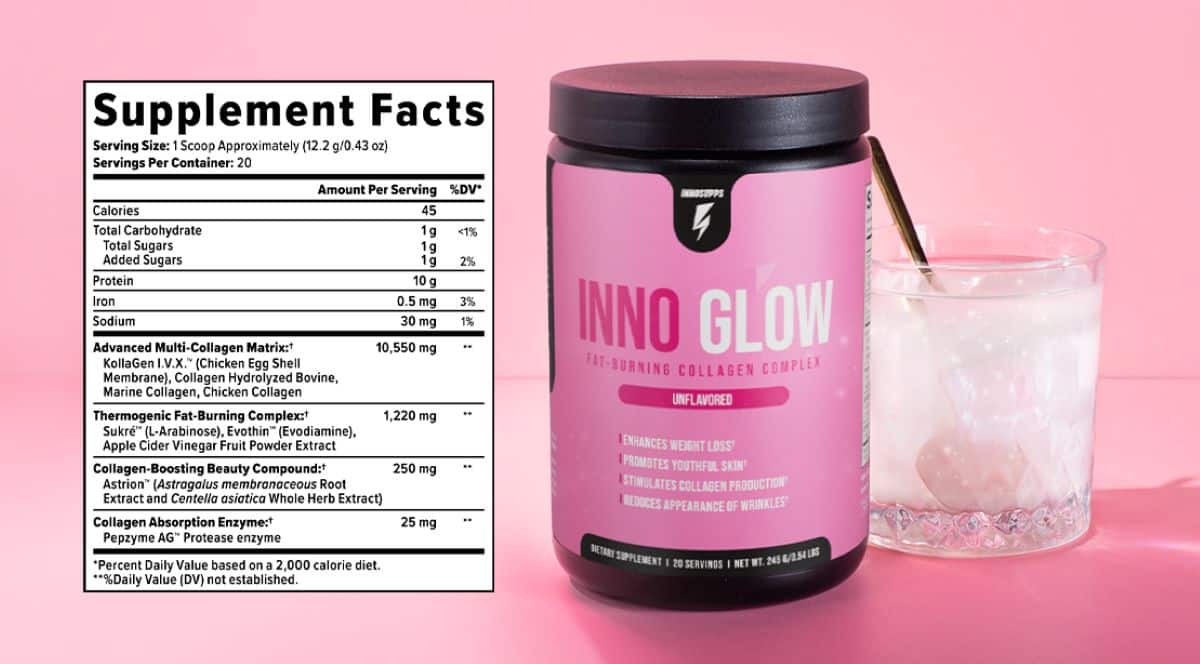 Advanced collagen-boosting and absorbents are part of what makes Inno Glow so amazing and beneficial. Let's see what exactly is in Inno Glow that will help your health.
Astrio™ works to prevent aging. It has been shown to reduce fine lines and wrinkles, and boost collagen deep within your skin by up to 80%, leaving your skin feeling smooth and looking plump and luscious. It also helps protect your skin from harmful UV rays, keeping you looking young. Astrion™ also stimulates the production of Hyaluronic Acid on both the surface of your skin and deep beneath your skin, delivering the hydration you need for maximum elasticity and healthy skin.
Pepzyme AG™ is an advanced ingredient that helps your body break down collagen proteins into their most bioactive and bioavailable forms, making it easier for your body to utilize its beauty-enhancing properties.
By helping your body break down protein, Pepzyme AG™ helps support healthy muscle tone and strength. It also helps increase the ability to digest protein and helps prevent food from building up in your intestines and causing digestive problems like bloating.
This collagen-rich combo delivers 10 grams of protein per serving with no added sugar or artificial ingredients — mix it into your coffee, water, smoothie, or soup for an extra collagen boost that will also help curb some of those unhealthy cravings.
Inno Glow for fat burning?
Yes, you read that right! This is a NEW improved formula for Inno Glow. Now it has ingredients to give you thermogenic fat burning effects. Let's take a look!
Evothin – This ingredient can help accelerate the burning of calories and prevent fat gain, as well as fuel thermogenic fat burning and promote weight loss.
Sugar – This ingredient helps support blood glucose levels for healthy weight management.
That said, you're getting the most advanced ingredients to not only reverse signs of aging, but also enhance your weight loss.
Inno Glow Award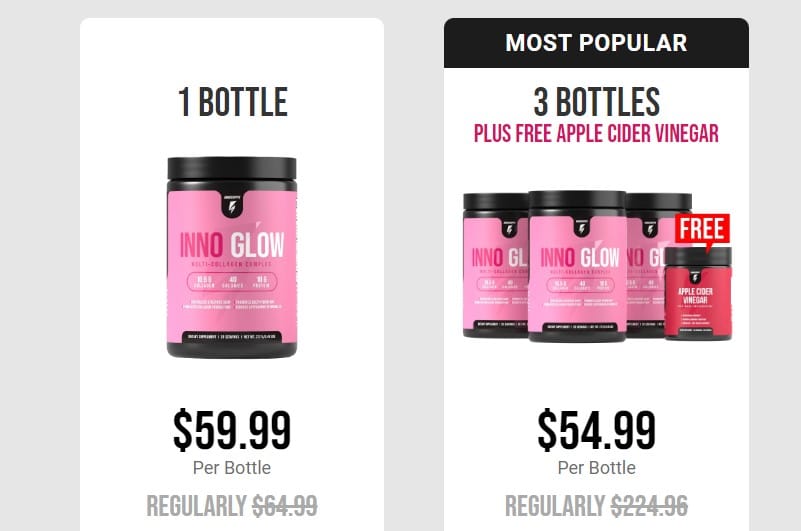 In today's world, price plays a major role in purchases. When it comes to supplements, you want quality and value for money. At Inno Glow there are different price packages you can choose from. Let's take a look.
1 bottle: $59.99
3 Bottles: $54.99 (plus free apple cider vinegar)
Inno Supps also offers a "Subscribe and Save" deal where you can subscribe and save up to 25% off with one bottle delivered every 30 days or 3 bottles every 90 days.
Frequently Asked Questions about Inno Glow
Okay, so you probably have a few questions you want answered before you buy – don't worry, we're going to cover them.
Should I cycle away?
Cycling Inno Glow is not necessary because you can use collagen forever.
Is Inno Glow vegan?
No. Inno Glow contains ingredients such as chicken, chicken eggshell, bovine and marine collagen, so it is not considered vegan. For a vegan option to boost collagen, try Inno Supps' HAIR + SKIN + NAILS supplement, which contains ingredients that stimulate and stimulate your body's natural collagen production.
Can anyone use Inno Glow?
Anyone (over the age of 18) can use Inno Glow, and it is especially beneficial for men and women over 30 to supplement the decline in muscle mass and natural collagen production and quality.
Inno Glow Wrap Up
In general, collagen is something that can provide a lot of health benefits. Collagen helps fight skin aging, as well as hair, gut and nail health. Not to mention it can help with joint pain, heart health, and overall physique and weight management.
While there are tons of collagen supplements on the market, Inno Supps definitely stands out with Inno Glow. It has multiple blends of collagen-boosting ingredients to help you maintain your overall health and appearance. Not to mention, it is endorsed by Dr. Anika Ackerman, MD, something you don't see with many supplement companies.
Are you going to try Inno Glow?
Inno Glow Review – Generation Iron Fitness & Bodybuilding Network